"THE DEVIL'S PLAYGROUND"
"WOMEN OF FAITH: GOD'S WORD"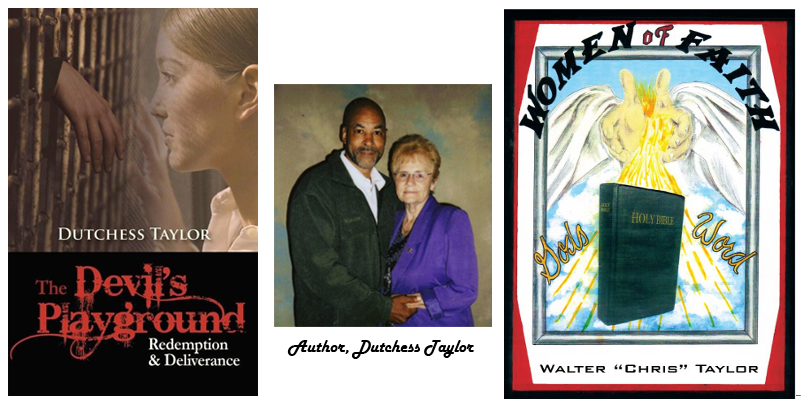 ******
"THE DEVIL'S PLAYGROUND" Our Story will tell you how God changed our hearts and lives. Yes, the early years were difficult and painful. But I have a God who can change hearts. He did it for me and for my husband "Chris." So I know HE can do it for you too. Our story is powerful..."The Devil's Playground" by Dutchess Taylor...
You can purchase this at Amazon, Barns & Noble and www.outskirtspress.com/thedevilsplayground.com
******
Go to your search engine.
https://www.gofundme.com
on there... click on Gofundme#1 Platform for Crowdfunding
Once there...top of page click on search
write in. Pearl Taylor Childs Walk With Jesus
once you see it click on it and it will bring you to my gofundme .
Child's Walk with Jesus
OR
go to my facebook Pearl Taylor
******
You can also purchase "WOMEN OF FAITH, GOD'S WORD" by Walter "Chris" Taylor at... at www.outskirts.com/womenoffaith 322 pages...
Also, it can be found on Amazon and Barns and Noble
AN INSPIRING STORY OF LOVE, COURAGE AND FAITH...
The Women of Faith, Loretta, Janet, and Theresa were women who truly loved and trusted the Lord. But they had no idea how their love, faith, and trust would be put to the test until a gang of murderers kidnapped them by mistake, with all intentions to abuse, rape and murder them. These young misguided men didn't know that God could override their plans and set these brave faithful women on their new path for His Glory. As the women suited up for the battle of their lives with God's Word, and fire in their hearts, they knew God and His angels would be right there fighting with them. Some would fight, and some would die, and only God knew who would survive...
to contact me go to taypearl@verizon.net